by Jane Austen
Adapted by Jeff James, with James Yeatman

Manchester Royal Exchange, May-June 2017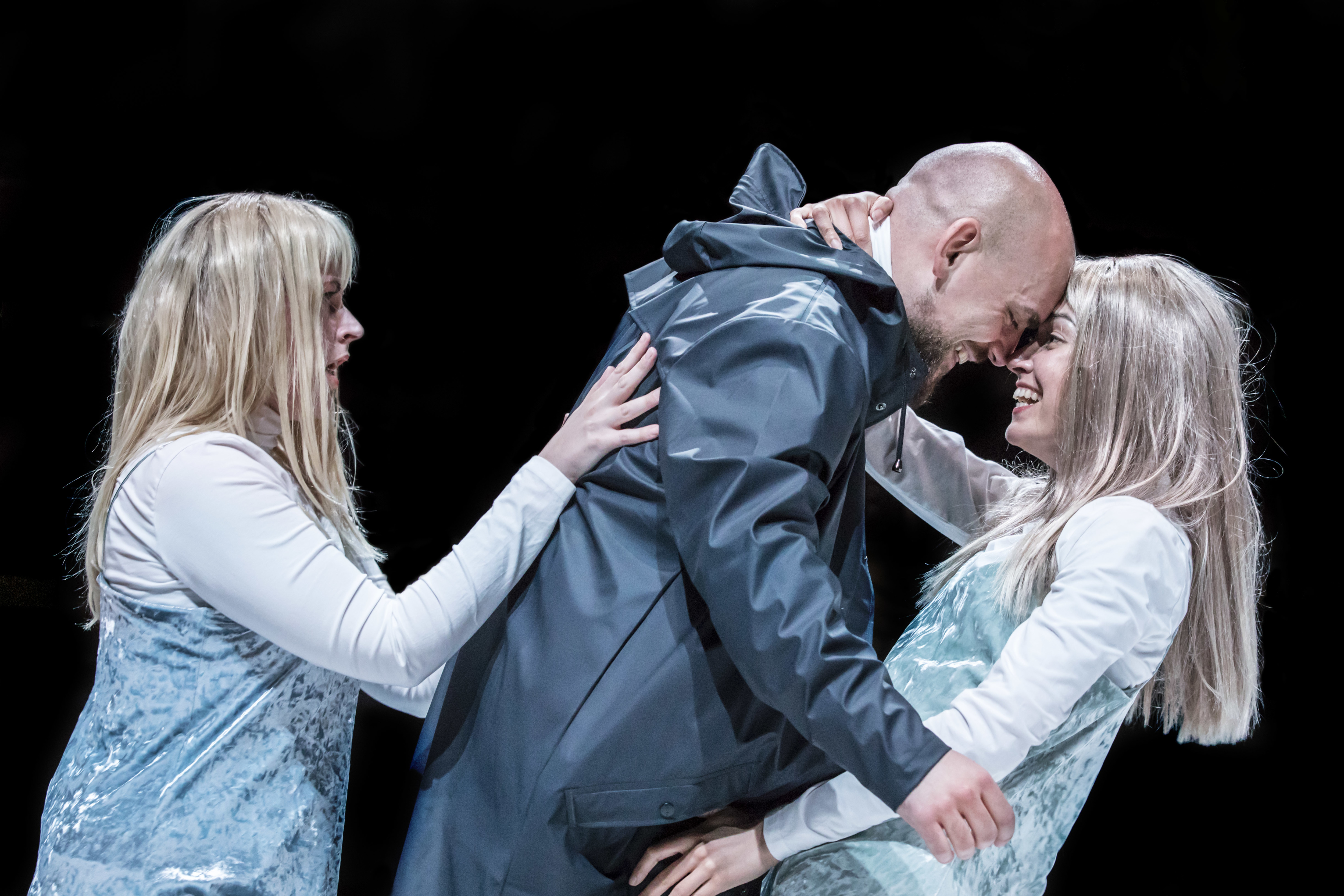 Caroline Maroney as Henrietta, Samuel Edward-Cook as Wentworth, and Cassie Layton as Louisa
Photo: Johan Persson

Director: Jeff James
Set and Costume Design: Alex Lowde
Light: Lucy Carter
Sound: Ben and Max Ringham
Dramaturg: James Yeatman
Movement director: Morgann Runacre-Temple
Casting: Jerry Knight-Smith and Vicky Richardson
Assistant Director: Helen Abbott

Cast:
Geraldine Alexander
Antony Bunsee
Samuel Edward-Cook
Helen Cripps
Cassie Layton
Caroline Maroney
Lara Rossi
Dorian Simpson
Arthur Wilson

Script published by Samuel French

With thanks to the Young Vic Directors Program for a workshop at an early stage in Persuasion's development.

The Times by Sam Marlowe
★★★★
"No bonnets or breeches, no tinkling teacups, no flounces or fuss: this literary adaptation busts open the bodice of the original, thrillingly liberating its subversive spirit. Jeff James and James Yeatman's radical take on Jane Austen's final completed novel is sparklingly intelligent and very funny...
When resolution arrives, it's joltingly powerful — hard-won, clear-sighted, with Anne and Wentworth facing a future as equals and without guarantees. This is a fantastically satisfying interpretation of the novel, the more brilliantly illuminating for its audacity. I suspect Austen would have loved it."

The Telegraph by Claire Allfree
★★★★
"... you might not recognise Austen's prose in even half of Jeff James and James Yeatman's inventive and extremely funny adaptation, but they have certainly captured the spirit of her characters. Its questioning spirit runs through this show like a subversive message in a stick of Lyme Regis rock... Step by step, James explodes those conventions to reveal these characters in all their seething, psychological distress. Everyone is on the edge; their state of mind fraught, their life choices potentially perilous. Only love, or the illusion of it, offers moments of hedonistic relief... James mines terrific comedy from Austen's novel often by amplifying what is already there and giving it a modern twist... The sublimely funny centrepiece scene, at Lyme Regis, is a riot of soapsuds and sexual tension... Persuasion is Austen's most mature and melancholic novel, a frost-tipped exploration of the meaning of love and a quietly savage critique of Regency England's obsessions with money and class. James offers a parallel commentary on how these sorts of novels are organised, the narrative patterns they conform to, and the parts of the story they leave out... It's a terrific tribute to Austen in the bicentenary year of her death."

The Guardian by Lyn Gardner
★★★★
"'Love is a dark and shifty creature. We cannot all live in a fairytale,' warns Lady Russell (Geraldine Alexander) in this bold, enoyable and often exhilarating updating of Jane Austen's final novel. The heroine Anne (Lara Rossi), who eight years previously was persuaded to reject the love of her life, Captain Wentworth (Samuel Edward-Cook), because his prospects were uncertain, is a Cinderella figure overlooked by her family...
Austen was way ahead of her time, which Jeff James and James Yeatman really highlight with a staging that strips away the bonnets, transposes the action to the present day and has a playlist that includes Nicki Minaj's Starships and Frank Ocean and Earl Sweatshirt's Super Rich Kids...
When I tell you that the visit to Lyme Regis features a bikini foam party, those devoted to crinoline may take fright. Do not fear... A small sign of how unexpectedly invested the audience became in the production – which in less capable hands might simply have replaced 19th-century trappings for those of 2017 – is that when Anne and Wentworth eventually kiss there was spontaneous applause. ...this textured evening is deliciously irreverent and relevant.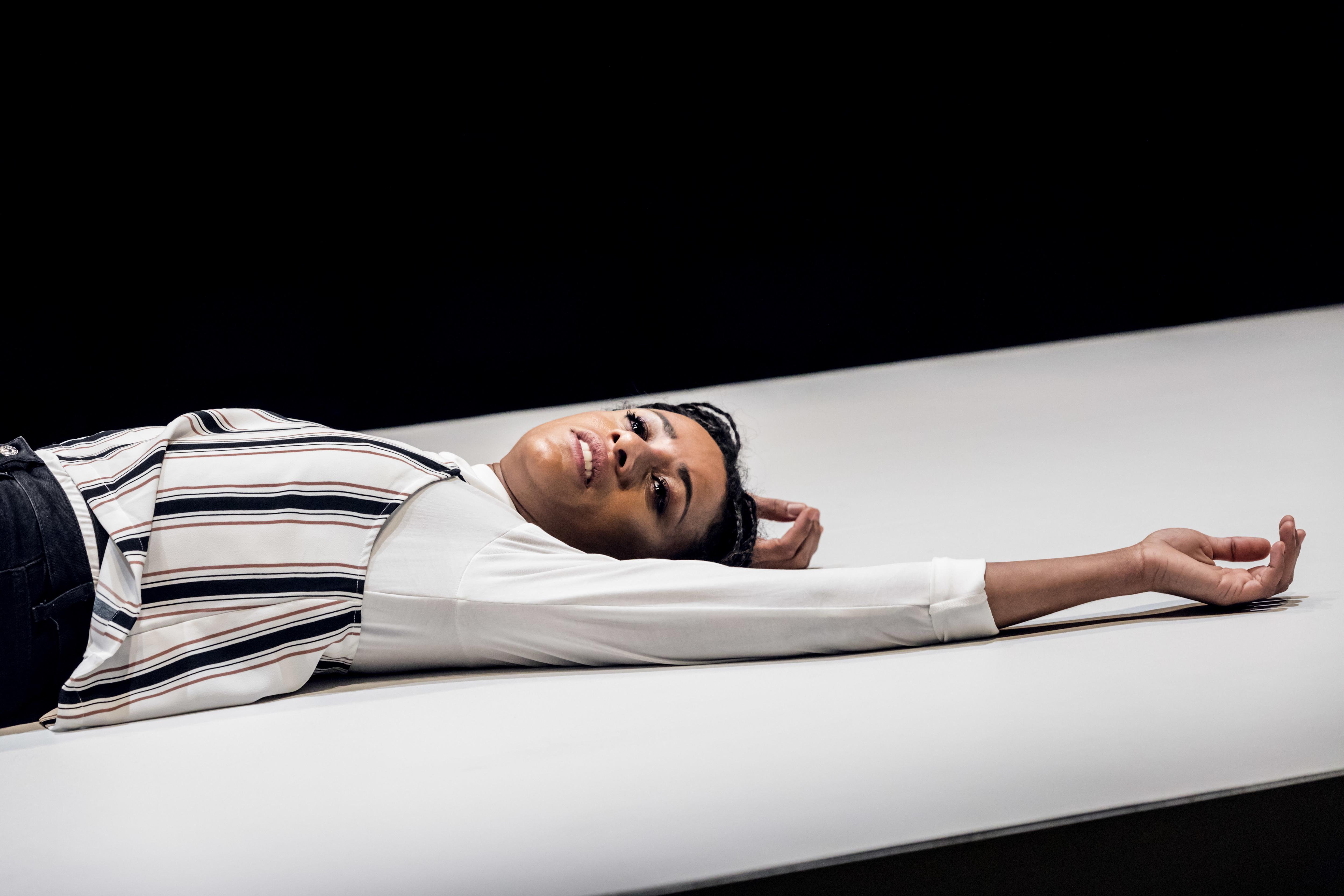 Lara Rossi as Anne
Photo: Johan Persson

Sunday Times by Jane Edwardes
★★★★
"An unexamined life is not worth living, whether in the 19th or 21st centruy. Jeff James's production of Jane Austen's last novel miraculously manages to examine this proposition in both periods simultanetously...
The book's emotional truths are felt more deeply than ever. Most adaptations of Austen lose what makes her worth reading in the transposition. Not this one. The design, the detailed performances and the imaginative production together create a surprisingly fresh and hugely entertaining evening."


Whatsonstage by Matt Trueman
★★★★
"Jane Austen, meet Frank Ocean. Frank Ocean, Jane Austen. Strange bedfellows? You bet your million-dollar bike. But that's exactly what makes this Persuasion so persuasive: its sheer incongruity. By forcing a faithful script – all prim formalities and literary bon mots – through an ultra-contemporary staging, director Jeff James and his co-writer James Yeatman set up the most jarring of anachronisms and so reveal both past and present anew. Talk about popping the bonnet...
The effect of this disconnect is a kind of double-vision. It splits everything in two. Not only does Austen suddenly seem our contemporary, we start to seem like hers. Her characters are like people again – not just literary tropes and lace fans. Austen was writing about human hearts and real emotions, and James restores that by taking them seriously... More than anything else, this is great fun – and that's rarer than it should be."

The Stage by Roger Foss
★★★★
"Did the gentry frolic semi-naked at foam parties in Jane Austen's day? They do in Jeff James' radically rejigged version of her final novel, Persuasion. By the interval, after mega-gallons of slurp have cascaded from the Royal Exchange roof, everyone on stage is wallowing in a sea of bubbles. This spectacular ejaculation could be seen to symbolise class rigidity being swept away on the briny beach at Lyme Regis, as well as signalling a bold rejection of costume drama cliches...
Costumes and set design – a revolving platform surrounded by sound boxes, lighting gizmos and techie cables – instantly place us in the here and now and not a Regency mock-up, while Ben and Max Ringham's gorgeous soundtrack, like the entire production, is as provocatively contemporary as you can get."

Postcards from the Gods by Andrew Haydon
"...By any normal standards, this is an exceptional show to see in an English theatre – all the more exceptional for having been made by someone English, rather than an imported European. No, it's not Nach Moskau! Nach Moskau! (Castorf's Marxist destruction of Chekhov's Three Sisters...) But then, it hasn't tried to be. James, perhaps in common with van Hove, seems here more interested in not alienating an audience with an overt political statement. And yet, through the piece's paradoxes, it's perhaps all the more interesting for not telling us what to think with dumb slogans (not that Castorf does that either, but...)...
So, yeah. To conclude this hideously rambling 2,000-word mess: Persuasion at the Manchester Royal Exchange is an exciting, intelligent, hugely watchable bit of contemporary theatre. A very English take on being European, and one with more genuine, tangible popular appeal than a whole country-load of worthy, traditionalist, costume dramas that are theoretically 'what the people want'.
Oh, and Morgann Runacre-Temple's "movement"/choreography pisses over almost all other UK theatre "movement" from such a great height it's not even funny.
And there's a bit with foam that's great too."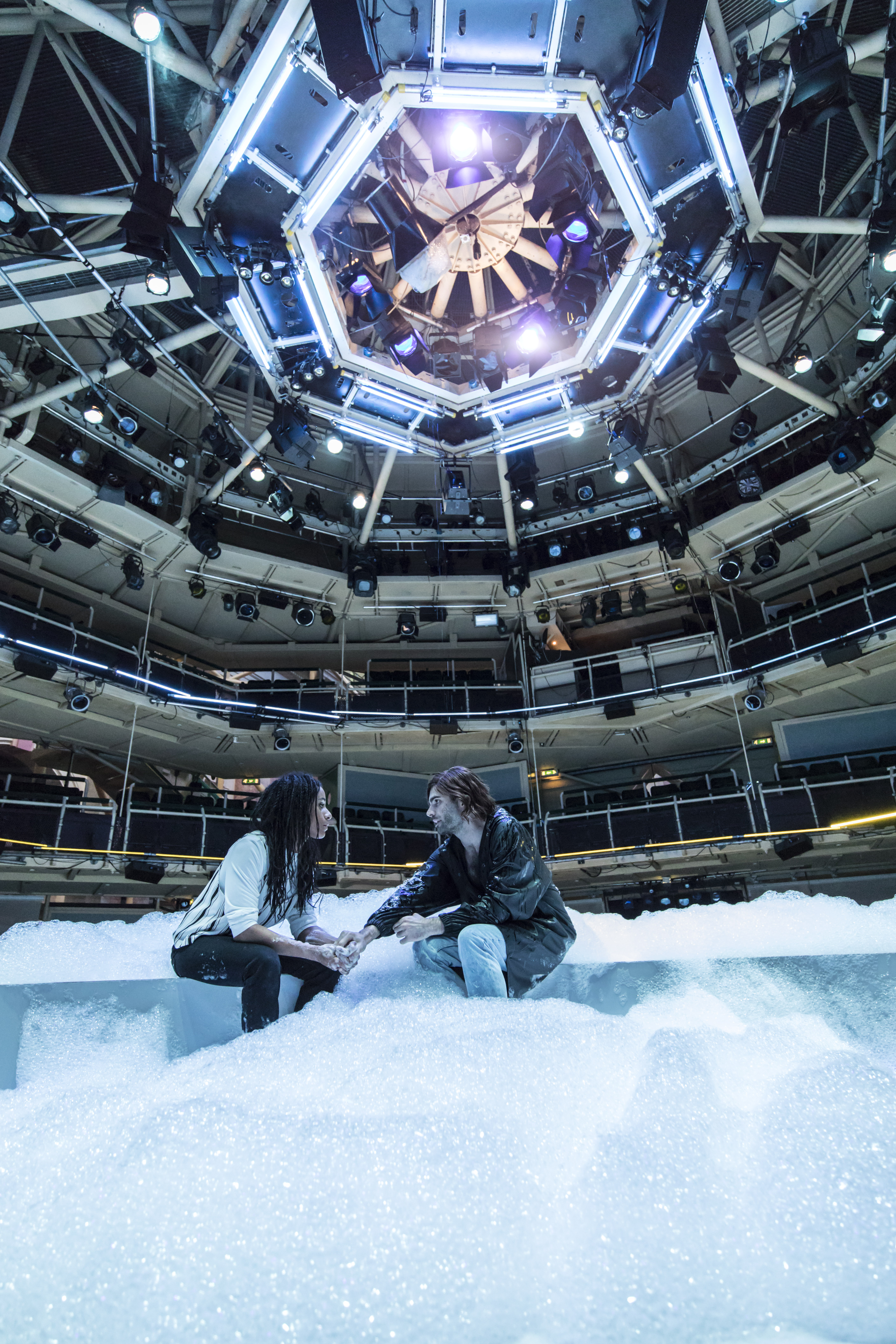 Lara Rossi as Anne and Arthur Wilson as Benwick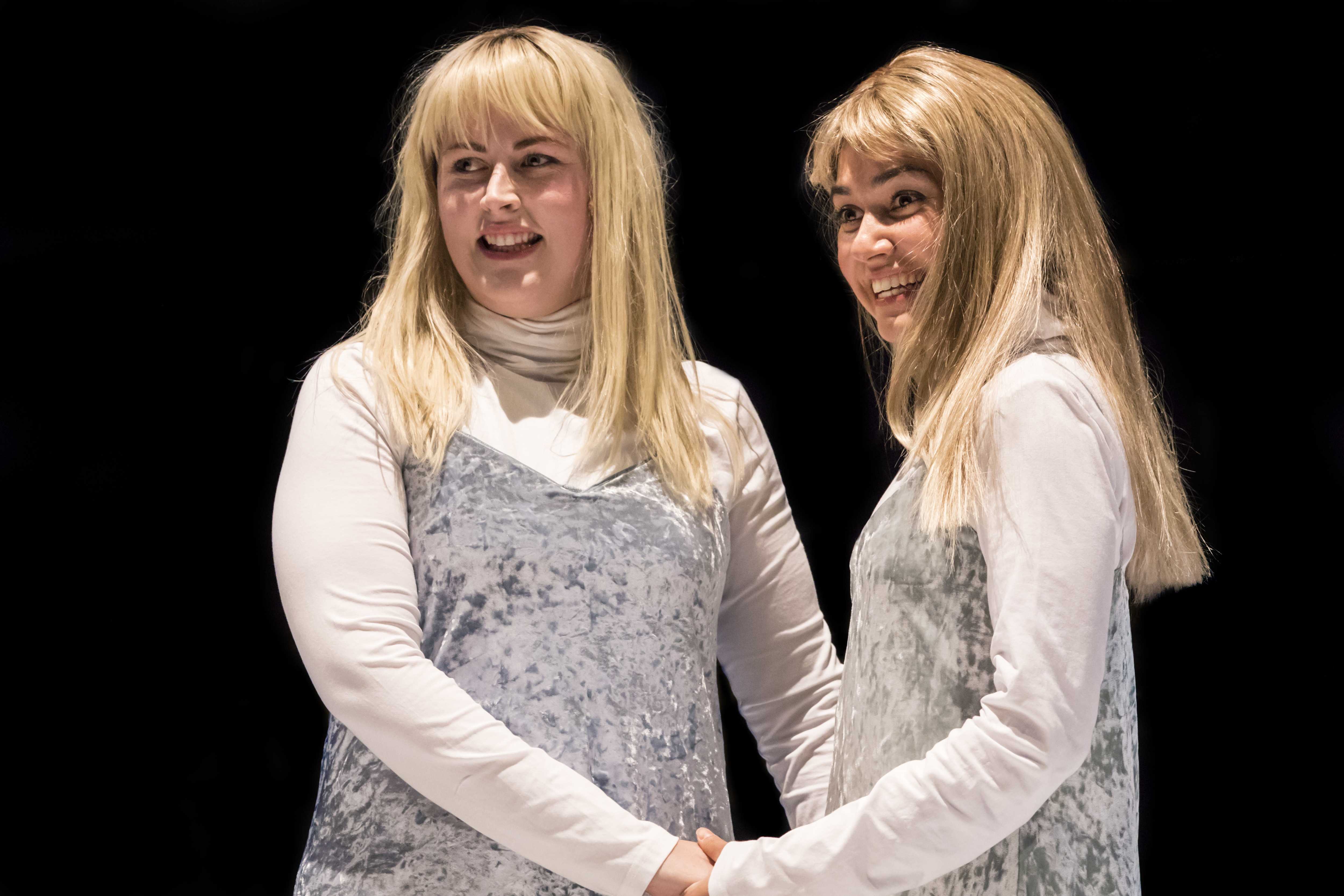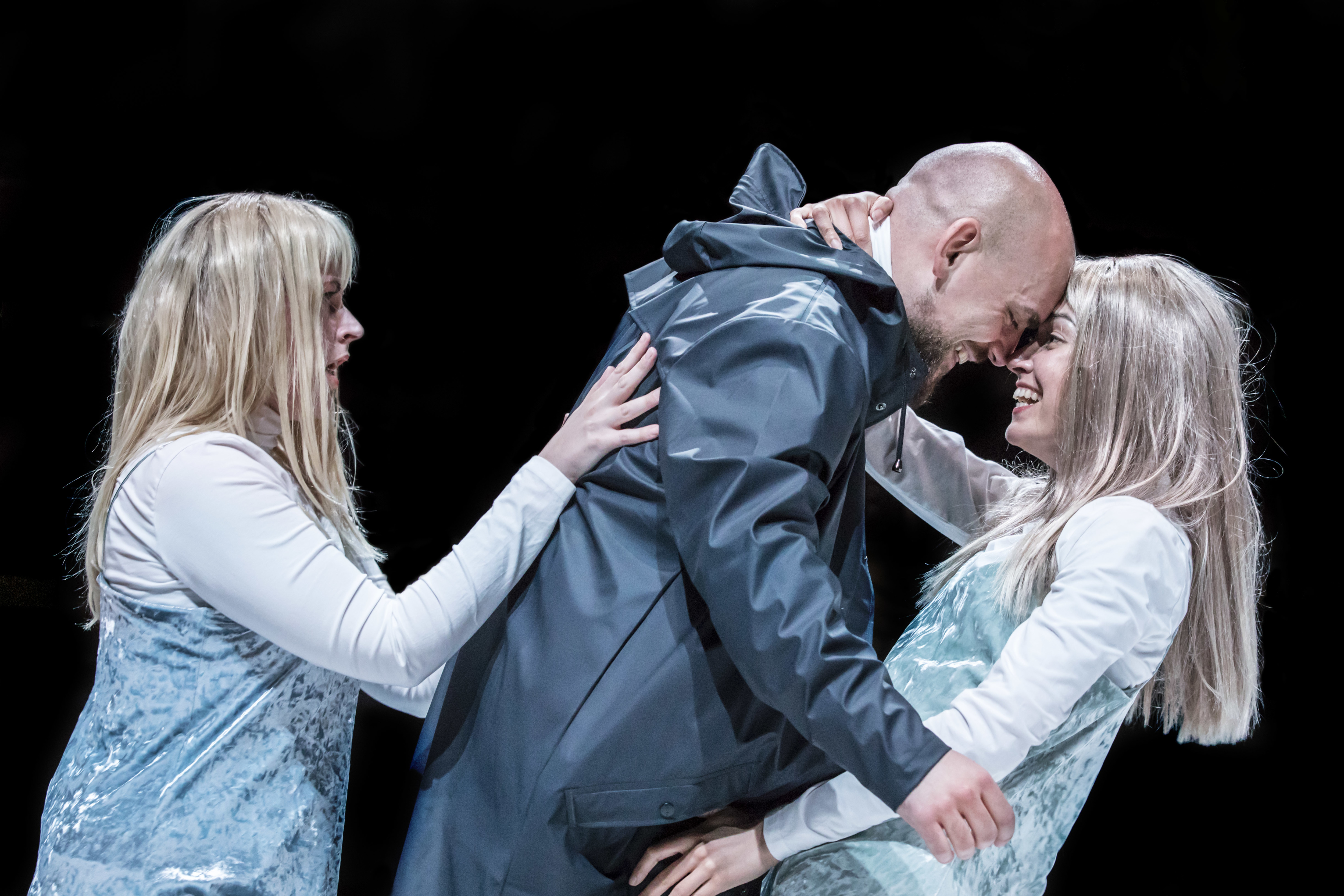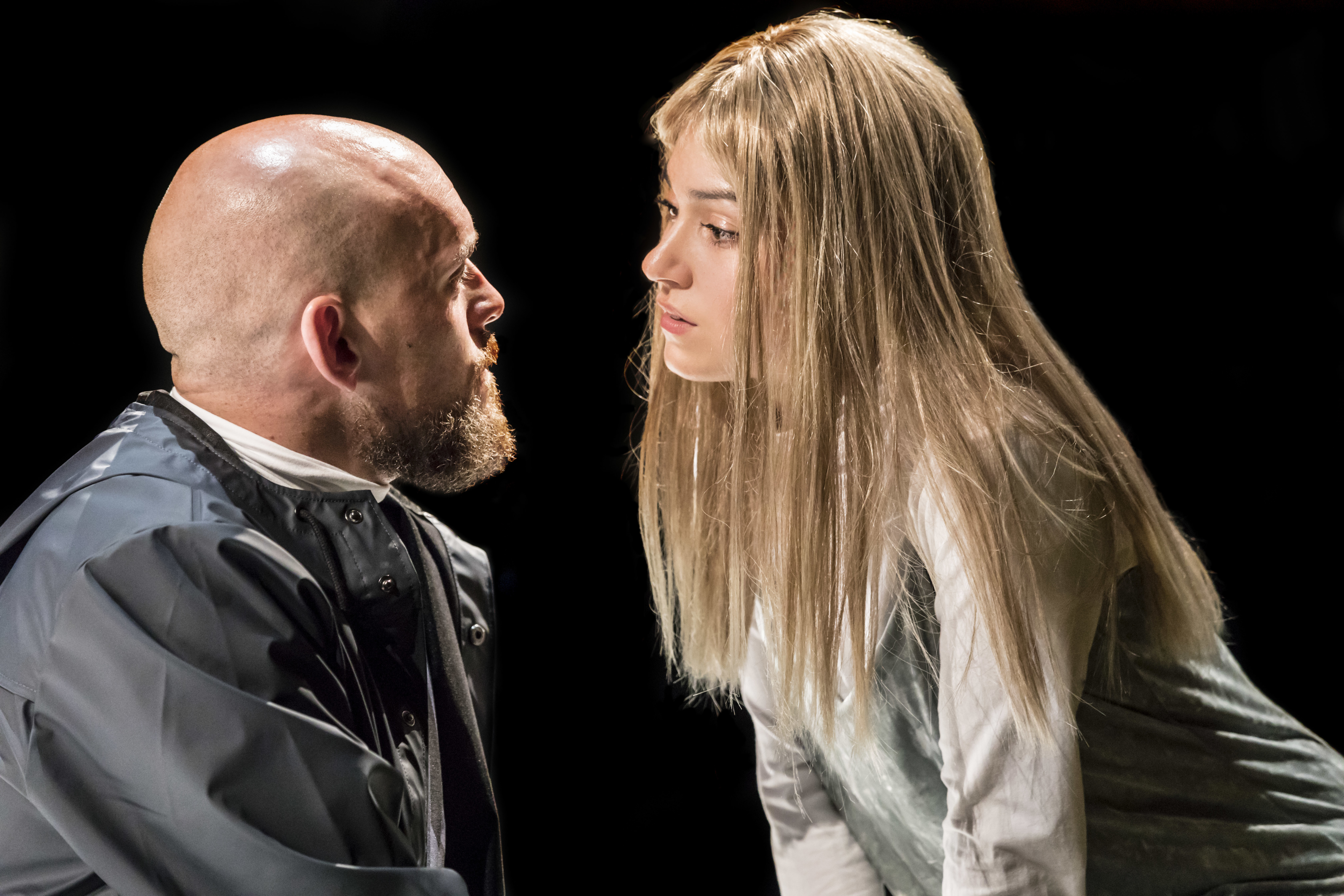 Production photos by Johan Persson



Arthur Wilson as Mr Elliot and Cassie Layton as Elizabeth